La Masia
Hotel and Apartments for rent in Estartit
The Hotel La Masia and Apartments La Masia are a family-run holiday resort in which nature and open spaces predominate in the 7,300m2 of the Hotel property and the 9,000m2 of the Apartments property. Good service and complete facilities for unbeatable value for money and to enjoy a pleasant holiday in a spacious, quiet and cozy environment with an extensive possibility of activities surrounded by nature near the sea, as well as the summer festivals of the Costa Brava and the tradition and culture of the Emporda in Girona.
Direct treatment, request a personalized quote.
Suitable for couples, families with children and groups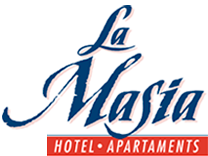 Booking/Information Form
Discover the advantages of contacting and booking directly
Thank you for contacting us, we'll respond to your message as soon as possible
To check that the information has been sent correctly:
• Verify that you have received a copy of the completed form in your email
• If the copy cannot be found in your inbox or main, first check that it has not gone to the junk or spam folder
• If you have found it to the junk/spam folder, mark it as Not Spam and move it to the inbox or main folder to ensure that you will receive our reply correctly.
• If the copy of the completed form cannot be found in any of your email boxes, resend the form with special attention at the time of informing the section of the email that you want to give us to receive our response.
The form hasn't been sent, please check the email address is correctly written
Important : Informative Note related to the situation COVID-19
Reservations contracted directly with La Masía may be canceled, or modified for other dates 2021 or 2022, until the expected date of arrival if there are mobility restrictions to arrive, or opening, due to COVID19.
We apply the latest COVID-19 protocols of the Ministry of Health and their dynamic adaptation as the situation evolves. The application of the current protocols supposes a reinforcement of the cleaning and disinfection processes, but also an adaptation of the capacity and norms of use of the common areas, as well as activities and forms of interpersonal relationships that need to be accomplished by everyone.